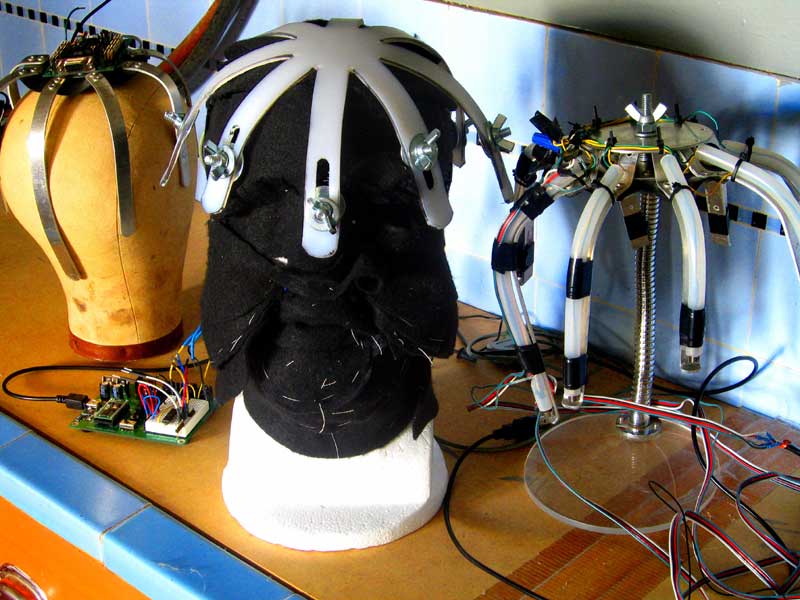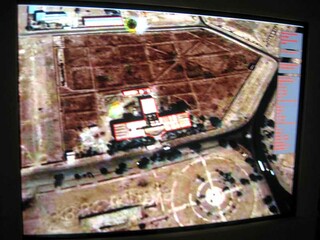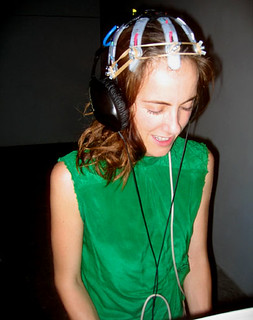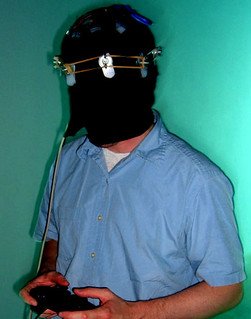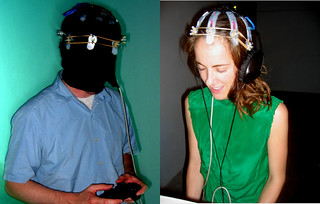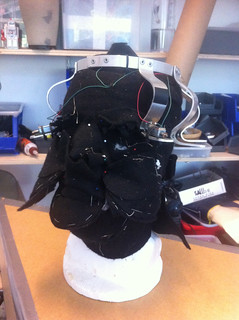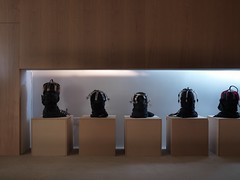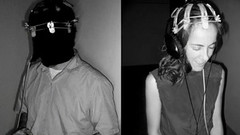 computer game
software
hardware (plastic, electronics)
About
Darkgame is a sensory deprivation computer game.  The game plays on physical manipulation of the player's senses as the central focus of game strategy. The gameplay is based upon the experience of communication and conflict under stress of sensory deprivation and sense isolation. During the game the player is equipped with custom made head gear, applying different sensations to the head that allow for non visual and auditory navigation the virtual world and interaction with other players over the internet. Darkgame is designed to include both vision and hearing impaired players, and was developed and playtested in part with the Los Angeles Braille Institute. There are four discreet versions of the game (v1 2006, v2 2007, v3 2012, v4 2014)
Version History:
Darkgame v1:
My starting point for the project was to explore ideas of an asymmetrical game centered around one player being able to see the world vs another player who could only hear and sense the game world.
I  started out programming and building with a 2D software prototype and trying out various head gear designs using metals, plastics. and fabrics. The electronics worked over a serial connection and lived in a tupperware container.
Special thanks to Jeff Arbukle and Jessica Hutchins for fabrication help. I first demo'd the game at the Solano Canyon Art Party in LA organized by Karen Lofgren. a few months later Ed Halter asked me to show the prototype at the Cinematexas Festival in Austin.
Darkgame v2:
This version was commissioned by the LABoral Museum in Spain.  Many things changed at this point.  v2 was recreated in 3D –  using the Torque game engine with most of the coding redone by Peter Brinson, I worked with the composer and Theramin player Elizabeth Brown who created a 3 part score for the game, I also worked with Palle Henkel and Phil Stearns on new more robust electronics and with Christian Johnson and Bill Ballou on creating new headsets.
Perhaps most significantly for v2 I implemented a new idea for an "Audio HUD" – a looping, spoken word accompaniment that addressed the players directly in second person, reporting on their physical and mental status without reprise. Jessica Hutchins did the voice acting, and

Production Support :
Creative Capital, Edith Russ House for New Media, LABoral, Indicade, OTIS College of Art and Design, Beall Center of Art And Technology

Thanks to all the folks that have worked on and helped make darkgame over the years:
Electronic Circuits: Palle Henkel(v2) , Phil Stearns(v2),  Jonathan Cecil (v3), , Gottfried Haider (v4)
Headsets/Fabrication: Jessica Hutchins (v1), Jeffrey Arbuckle (v1), Bill Ballou (v2) , Christian Johnson(v2), Bob Frederick(v3 proto) , Yilip Kang (v3 proto), Chris Reilly (v4) , Bryan Jaycox (v4 proto)
Programming / Deugging: Peter Brinson (Darkgame v2)  ,Jessica hutchins (voice acting) , Friedrich Kirchner (debugging help) , Mubbasir Kapadia (Darkgame v3), Patrick Tierney (v3), Jonathan Cecil (v3), Peter Lu (v3), Michael Brower (v3), Sephiroth Li (v3) , Alex Rickett (Darkgame v4)
Visual Assets: Pinar Yoldas (v3), Gautam Rangan (v3/v4), Steven Amrhein (v4), Alex Rickett (v4)
Sensory immersion research: Colin Clark (V3)
Install / Crowd Control: Cyril Kuhn, John Brennan, Elizabeth Hansen, Yilip Kang
Score / Sound Design: Elizabeth Brown (Darkgame v2/v3), Wilm Thoben (Darkgame v4)
Legal Support: Fish & Richardon P.C.
Business side: Loretta Savery
Exhibition History
Darkgame v4:
Beall Center for Art and Technology ( Irvine, CA), 2014

Darkgame v3:
Young Projects @ PAcific Design Center (Los Angeles, CA) 2012
Ben Maltz Gallery @ Otis College (Los Angeles, CA), 2010
Darkgame v2:
Sundance Film Festival, , (Park City, UT), 2008
IndieCade at E for All Expo, (Los Angeles, CA),  2008
IndieCade at Electronic Entertainment Expo/E3, (Los Angeles, CA), 2008
Edith Russ House for New Media, (Oldenberg, Germany), 2008
Total Museum of Contemporary Art, (Seoul, Korea), 2007
Gameworld Exhibition, LABoral, (Gijon, Spain), 2007
Darkgame v1:
Cinematexas 11, Austin, TEXAS (2006)
Solano Canyon Art Party, Los Angeles ,CA (2006)